Custom Plastic Enclosures
Share
Issue Time

Sep 15,2017
Plastic enclosures are plastic cases or housings manufactured by
injection molding process
. Usually a popular consumer product with great enclosure design catch people's eye immediately without promoting how good the function are, a very success example is Apple product, success industrial design contribute a lot to the success of Apple in worldwide.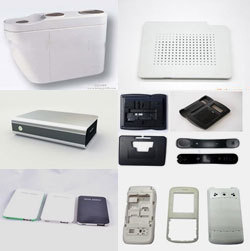 How to make a custom plastic enclosure?
First you need to make a design for your custom plastic enclosure, a complete and professional design will includes plastic parts size, structure, selection of proper plastic materials, assembly method, finish. Then you need a plastic mold maker to make a
custom injection mold
for it, mold price and lead-time will be determined by the quantity demanded, complexity of structure, size finish of the plastic part. If your plastic parts are in high volume demand, then a high quality and long durable mold is a must, get a warranty for how many plastic parts the mold can produce before you sign a mold manufacturing contract with your
injection mold supplier
. After the custom mold produced, you need to run the mold on an injection molding machine, finally, you get your custom plastic enclosure done.


Plastic enclosure materials
Selection of plastic enclosure material should follow basic foundation: functionality and economic. Enclosure for different product has different function requirement, for example, enclosure for chargers need ABS with anti static for safety consideration, enclosure of tool box need material with good intensity for the purpose of protection, some engineering material are very expensive so it is not common to used by consumer products but in special accession like military and aerospace applications.


Secondary process for plastic enclosure
Plastic enclosure parts come out of the
injection mold
are just primary product, secondary process make them into a real attractive eye catcher, these process include oil painting, nickel or chrome painting, silk printing. Aco Mold can provide one stop services from
mold making
, injection molding and secondary process, using a single supplier for your project like Aco Mold would minimize the scrap rates and shorten the lead-time.


Application of plastic enclosure
Plastic enclosure is widely used in many applications, including consumer electronics, home appliances, packaging products, cosmetic products, mechanical products, etc.